Wedding, Party & Event Hire Specialist!
We are committed to providing excellent customer service and competitive pricing. We pride ourselves on being a one-stop event, Organisation
Covid – 19 Message
Due to current situation Covid – 19, our absolute priority is the health, safety and well – being.
We follow all government guidelines including temperature check for every kid going inside the van, no admission allowed without mask and always keep social distance inside.
The Party That Comes To Your Door!
The First & Original Game Van in UAE – direct from the UK
Or Call Now on 0504967885
The Party That Comes To Your Door!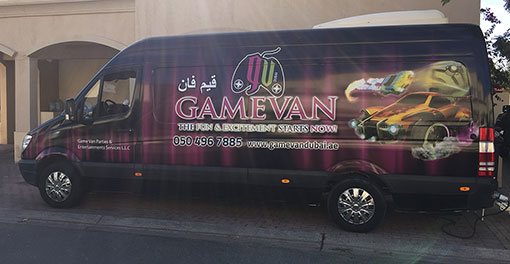 Game Van Dubai is Dubai's favourite state of the art mobile video game van. We will take your party experience to the next level, as we pride ourselves in being the most sophisticated and advanced gaming van in UAE.
Choose from the latest gaming consoles such as Playstation 4, Xbox ONE and Wii and exciting new release games such as FIFA 16, Minecraft, Call of Duty etc.
If you are hoping to add excitement to your event, get in touch with the team at Game Van Dubai with any queries that you might have.
We are always happy to hear from you if you have any questions about our services.
Video Game Party
Your own private video game theater
The hottest multiplayer console games
Virtually no clean up
Climate controlled
We come to you!
Schools
Homes
Sports Fields
Clubs and more…
Safety First
Health & Safety trained
Fully Insured
Experienced Staff
Reliable Service
Don't forget that Game Van Dubai is suitable for big kids too, making it great for adult parties, weddings, team building and corporate events and much more.
Game Van Dubai will bring fun and excitement to any party or event, regardless of age and gender.
"I just wanted to say a big thank you to @gamevandubai for an absolutely fantastic two hours of entertainment and their brilliant business idea. All the children had a fabulous time.
I would definitely recommend @gamevandubai to all my friends.
Thank you again you made my boys' day.
Yasmin Teimoori
We had the game Van for my sons 9th birthday. My son had a great time and all the kids thoroughly enjoyed it was very professional and all the kids were kept busy we will definitely be booking again!
Helen Hughes
The kids all had a great time for 10th birthday. Great addition to a house party and made it convenient for the parents and lots of fun for the kids. Thanks GameVan
Carolyn Deed
Fab, excellent service. Boys had a great time!
Leigh-Anne Brand
"Thank You for a great birthday ?".
Colleen Qadadeh
"Just had a GameVan party for 13 11year olds and it was excellent!!! The kids absolutely loved it!! Thank you!!".
Marianne Dempster
"Great party idea. My son & his friends loved it".
Helen Watson
This is such a fun novel idea for the kids!
The boys enjoyed their time and said the organizers were "fun" and "cool" a big compliment from teens!!
Thanks
Shelagh Estment
Great party idea, very professionally managed from booking to the actual event.
Many thanks!!
Joe Brough 
Had the van for my son birthday and it was fabulous they loved it and he was super happy.
Plus the good service highly recommend and will think about it again,
superstar �
Muna Abu Zayyad
Awesome party idea! This is something new to our kids and they find it really cool to have the van parked in our backyard
while they enjoy their gaming with their friends!
Very convenient as they will bring you to the party!
will definitely hire them again.
Sherry Parangat Roberts
My son was very happy to be able to play with his classmates at the Dubai British School Jumeirah Park on their last Family Bazaar. Thank you for the great service…
Giana Cochrane
Highly recommend Gamevan as the children enjoyed a couple of hours gaming.
The team were helpful and everyone had fun
Linda Lewis
I had game van over for my son's 9th Bday! It was fabulous! My son was super excited!
And his friends totally loved it and can't wait to have them for their Bdays!
Seema Haque Shah
Really fun! Amazing set up in the van and a friendly, helpful team.
The kids faces lit up when they saw it and they had a great time.
Highly recommended!
James Veysey 
it was the best idea for my son birthday..Adeel and his colleague were so professional..
the Van is beautiful, clean and nice environment, the kids enjoyed it. definitely we will do it again in the future.
Elie Salameh
Thanks a million game van for making Zaids 9th birthday sooo special … the kids had a blast..
great idea and very professional service and communication ��
not to mention it was a hassle free birthday gathering thanks to you 🖒🖒
Dimah Hamdan
Just had a gamevan party for 13 11year olds and it was excellent!!!
The kids absolutely loved it!! Thank you!!
Marianne Dempster
My son had the game van for his 9th birthday just today. And he says he wants to do it every year!
The kids totally loved it and they were so professional and so patient specially with so many boys and with the power going off numerous times as an error from my end not theirs!
Absolutely amazing and would definitely recommend them for an event!
Tina Sawlani
Look No Further. Book Your Party Today
Fantastic Offers on Emirates Platinum Cards